Our training courses
In recent years, additive manufacturing has become firmly established commercially. Whether plastic, metal or ceramics – products manufactured by 3-D printers are used all the time today, for example, in toolmaking, in the automotive industry, and in medical technology. Many companies have already recognized the great potential of 3-D printing and the benefits it offers, ranging from, for example, custom production of components from a batch size of one, to innovative functional integration and extremely short delivery times. Thanks to the constant development of materials and processing methods, industrial 3-D printing is continuously improving and being used for more and more applications.
The experienced PROTIQ Team will show you how to integrate additive manufacturing into your work processes in a profitable manner, allowing you to recognize and use undiscovered potential. Our training courses are aimed at 3-D printing beginners as well as at advanced users and customers who want to gain a deeper understanding of the manufacturing processes and material properties. All modules can be freely combined as required. We would be happy to develop a customized training program together with you – contact us!
Basic Module
3-D printing offers many companies significant advantages, such as fantastic design freedom in product development and time-saving, tool-free production of components. In our Basic Module, you will receive detailed insights into the historical development of additive manufacturing, the common terminology and the application of various commercial 3-D printing processes.
3D printing technology specialist (IHK)
3D printing as an additive manufacturing process is already playing a decisive role in industrial digitization today, and the trend is on the rise. In cooperation with the Lippe zu Detmold IHK (Chamber of Industry and Commerce), we are offering 3D printing technology specialist (IHK) training with uniform standards throughout Germany. The certificate course provides comprehensive knowledge on the use of the various manufacturing processes.
Process Modules
3-D printing is not always 3-D printing. In additive manufacturing, manufacturing processes are based on process controls that are tailored, among other things, to the properties of the materials and components as well as the respective machines. In our Process Modules, we will explain the basic principles of 3-D printing processes, such as selective laser sintering (SLS), selective laser melting (SLM) and stereolithography (SLA).
Selective laser melting Selective laser sintering / MultiJet fusion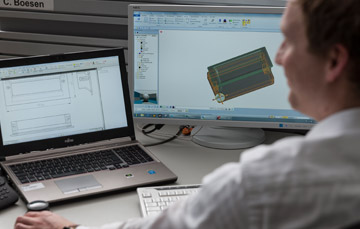 Add-on Modules
In 3-D printing, components are produced layer by layer from a formless starting material. In this way, even highly complex geometries can be realized, which are not possible with conventional erosive manufacturing processes.
In our Add-on Modules, you will learn, among other things, what special features/characteristics to consider when designing 3-D printing models and how to optimize your CAD models for additive manufacturing.
Construction Computer-based product optimization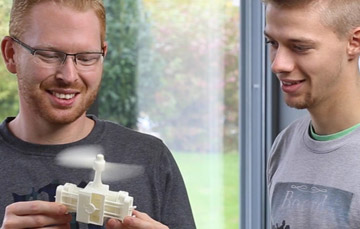 Workshops
In our application-oriented workshops, we address your individual requirements. For example, we will analyze the added value that additive manufacturing can generate for you. You will learn to recognize and use the potential of 3-D printing in your own company by focusing on key aspects, such as component selection, redesign and AM-compliant design/construction.
In our hands-on user training, we will show you step by step – from design to final production – how to create a component using 3-D printing and what peculiarities must be observed in regards to process management.
Component selection / Component design / AM-compatible design/construction Hands-on User Training
Testimonials
Marcel Töws, Hesse GmbH, Test-&Prozessingenieur

What fascinated us most about our training course at PROTIQ were the various exhibits. Each individual component tells its own story and is subject to an individual motivation to manufacture it additive. The great potential of 3D printing technology could therefore be demonstrated in an extremely comprehensible way. In addition, we were able to gain informative insights into the various production technologies and systems. Also remarkable is the openness and commitment of the trainer.

Torge Franke, SARTORIUS Werkzeuge GmbH & Co. KG, Leitung Produktmanagement

Our training at PROTIQ was very instructive and gave us an extremely detailed insight into the technology, the fields of application and the enormous potential of additive manufacturing. Many synergies can be seen for our business field. The trainer was very motivated, open and committed in conveying the contents. In summary, an extremely interesting and informative event - thank you very much!
Are your 3D files ready?
Just upload your data. All files are automatically checked and optimized for printing.