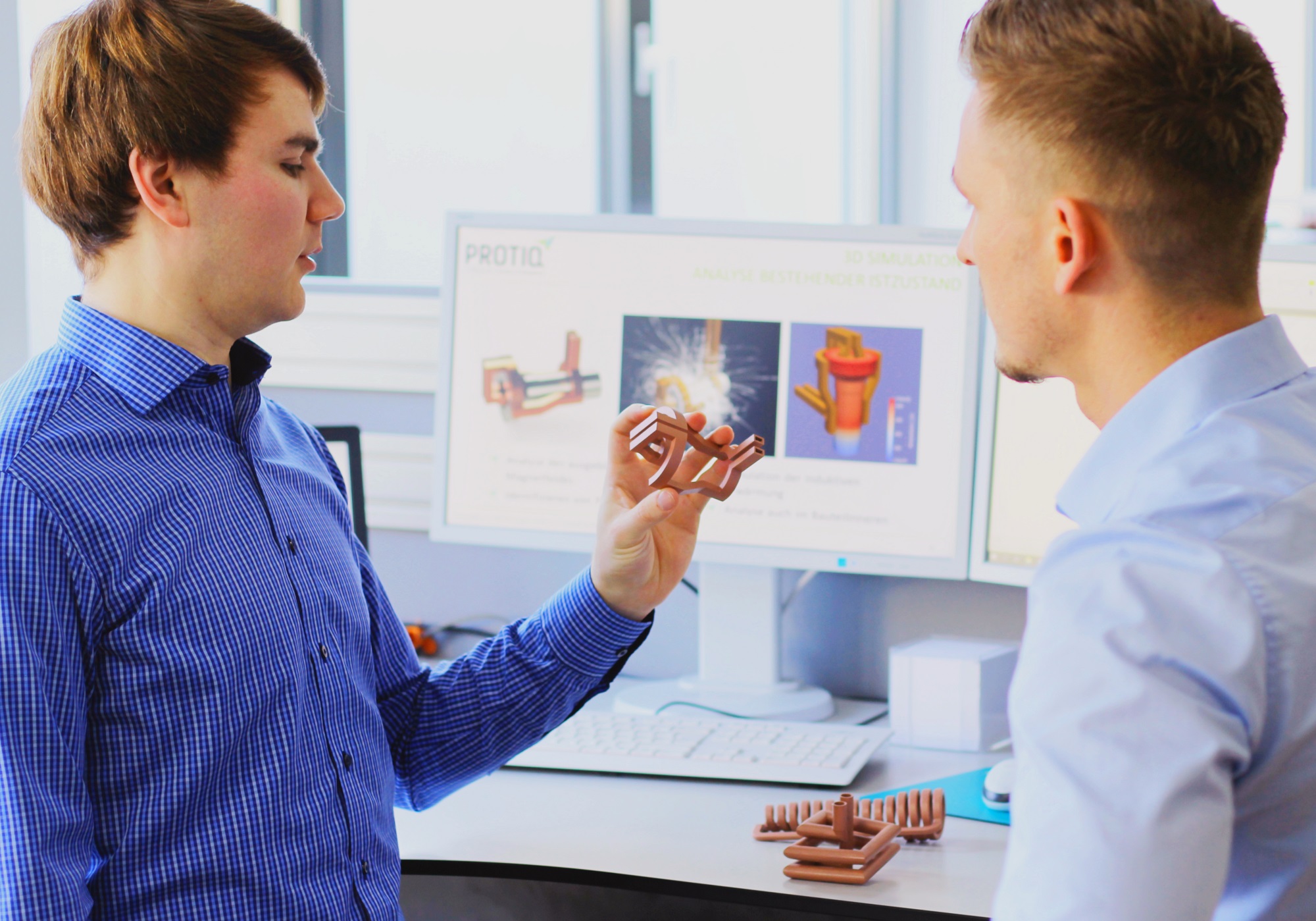 Material innovation: PROTIQ offers additive production with 100 % pure copper
Starting now, PROTIQ offers additive manufacturing with pure copper and is opening up new potential for its customers in mechanical and plant engineering. In 2011, the 3D printing experts from Blomberg pulled off a coup in discovering how to process highly conductive RS (rapidly solidified) copper. With this new material the company is setting yet another milestone.
3D printing with pure copper based on a unique process
Thanks to the development of a special process, PROTIQ is the very first and currently only supplier in its market that can process two highly conductive materials using additive manufacturing: RS copper, an alloy containing 99% copper — and more recently, pure and unalloyed copper as well. The new material featured in the company's repertoire exhibits impressive values: Boasting an electrical conductivity of 100% IACS and a density of 8.9 g/cm³, it outperforms conventional additive-processed alloys in both quality and efficiency. This leap forward allows PROTIQ to offer its customers even greater flexibility.
Inductors meeting the very highest industry standards
Machine and plant manufacturers in particular will reap the benefits of this new material. They use inductors for the surface-hardening of components. The better the inductor corresponds to the shape of the workpiece to be hardened, making it more conductive, the more efficient the process. Additive manufacturing allows the inductor to be individually and precisely adapted within just a few days. Using highly conductive copper helps PROTIQ produce inductors that meet the very highest industry standards. The same holds true for heat conductors, whose efficiency also depends on the conductivity of their material.
Highly conductive copper as an appealing alternative
3D printing has long since become a firmly established manufacturing process for producing inductors and heat exchangers. Many different kinds of copper alloys are typically used for processing. As copper reflects the radiation of conventional laser melting systems, often compounds with a low copper content are used, which compromises their conductivity. This problem is now a thing of the past — thanks to PROTIQ's ability to process pure and RS copper.
Create your individual product now in our online configurator!
More News
06.04.2020

PROTIQ continues to produce - also for the fight against COVID-19

Read message ›

15.11.2019

PROTIQ Marketplace Is Now Active in the Field of Medical Technology

Read message ›

31.07.2019

Unique: PROTIQ enables additive production using the Zamak 5 series material

Read message ›
Are your 3D files ready?
Just upload your data. All files are automatically checked and optimized for printing.